BIOGRAPHY
"Suzda demonstrates how a contemporary jazz saxophonist can be great and evocatively creative.  He combines Pepper Adams and John Surman in an evocative song of dreaming beauty." Ernesto D'Angelo jazzcommunity.net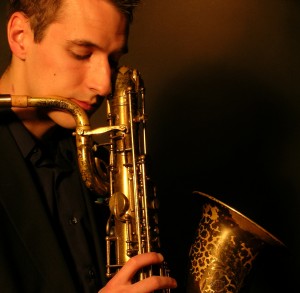 New York based saxophonist and educator Jeff Suzda is an award winning musician both on stage and in the classroom. As a top-call baritone saxophone saxophonist and woodwind musician on today's music scene, Suzda's diverse talents can be heard in every musical genre from straight-ahead jazz to hip-hop, Big Band swing to traditional Bulgarian folk music, avant-garde jazz to New Orleans Dixieland, or in an orchestra pit.
Suzda's wide range of musical influences helped distinguish his voice while living in Europe where his music was featured at concerts and festivals in France, Germany, Italy and in Morocco. Notably, his composition skills were on display at the International Film Festival in Aubagne, France where he was honored to be among 8 international composers selected to write and perform works with noted Hollywood film composer Cyrille Aufort.
Suzda has been a featured soloist with the Smithsonian Jazz Masterworks Orchestra at the Kennedy Center as well as the Lincoln Theater in Washington D.C. where he shared the stage with Clark Terry and Hank Jones as well as the Dizzy Gillespie All-Star Big Band. At the 2005 IAJE conference he performed with the Frank Mantooth Tribute Band and has shared the stage with Ben Vereen, the Tommy Dorsey Band, the Brooks Tegler Orchestra, Chuck Redd, and Ingrid Jensen among others.
He has been an artist in residence in both Europe and the United States.  His classical-jazz duo with percussionist Simone Mancuso was selected for a prestigious residency at the Music Center at Strathmore in Washington D.C.  The duo was featured at Blues Alley (Washington's Premier Jazz Club), the Music Center at Strathmore, and has been in the media spotlight in the Washington Post, Washington City Paper, Silver Spring Gazette, and CBS News. While living in Paris, he regularly performed at many premier venues such as La Salle Playel, The Lionel Hampton Jazz Club, and Sunside/Sunset. Suzda's music has taken him across North America, China, Japan, the Caribbean, Europe, and North Africa.
Suzda has received praise for his music from Downbeat Magazine (Best College Combo), the Washington Post, France2, CBS News, France Music, AllAboutJazz.com, and many others.